Roofing 101
Let's take it to the basics with Roofing 101.
Do I need a roof replacement?
There are many signs that you might need a new roof, both inside and outside of your home. Here are the main warning signs to look out for:
Cracked, torn, curling, bald or missing shingles
Loose shingle granules on roof and in gutters
Multiple layers of shingles (weighs down roofing system and creates more repair cost)
Moisture, mold, or rot
Water damage or leaking in and around ceiling
Dark spots or trails on ceiling
Areas where roof is sagging in attic
Outside light shining through roofing in attic
High energy bills
Do I really need an entire roof or can I have it repaired?
If your roof is more than 10 years old, whether it has had storm damage or not, it could require replacement depending on the type of shingle that was installed. Many homes that have storm damage are not missing most of their shingles, but the integrity of the remaining shingles have likely been compromised. The seal underneath the shingle oftentimes is broken and requires replacement of the entire roof. Lee Brothers Construction offers a free, no obligation inspection for any roof related problems that you may have. Contact us today and set up an appointment for peace of mind.
Here are some common estimates to take into consideration for how often to replace a residential or commercial roof:
Composition Shingles: 12-20 years
Asphalt Shingles: 15-30 years
Wood Shingles: 20-25 years
Rubber Roofs: 30-50 years
Metal Roofs: 50-75 years
What roofing services does Lee Brothers provide?
New Roofing
Roof Replacement
Composition Roofing
Metal Roofing
Modified Bitumen
EPDM Roofing
Roof Inspections
Roof Repair
What is the right price for a new roof?
Lee Brothers Construction has some of the best pricing in the industry while maintaining high standards for quality craftsmanship and customer service. Many factors must be considered when pricing a roof replacement or new roof. Please give us a call or contact us using the contact form and we will gladly set up a time to meet with you at your home to give you a free inspection and estimate.
Why should I choose Lee Brothers?
Unlike many of our competitors, Lee Brothers uses only nails on roof installations, never staples; and we nail them on by hand which means there are no holes in your shingles causing leaks down the road due to pressurized nailguns. We are passionate about providing quality craftsmanship with a smile.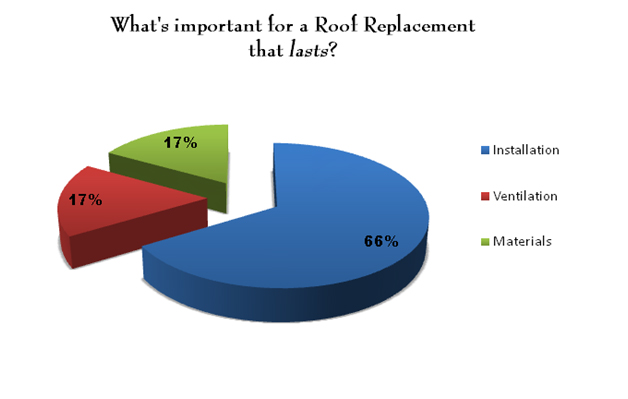 One of the most important aspects of roof replacement is quality of installation. Based on statistics from the RSI Group, proper workmanship is the most important component in ensuring that a roof will last throughout its lifespan (66%). While both ventilation and material selection come into play at 17% each, installation remains paramount to cut down on extraneous costs needed to replace a roof before its time.


How long does it take to replace a roof?
Replacing a roof is a labor-intensive project and, depending on the type of roof, could take anywhere from a few days to 2 or more weeks. The time involved is substantially affected by the weather, as well. Wind and rain, or even just the threat of one of these, could slow the process considerably.

For built-up roofs, removing and replacing the roof will proceed at the expected rate of approximately 1,500 square feet per day. For single-ply roofs, the rate is closer to 2,000 to 4,000 square feet per day. Careful planning and close project management can reduce some of the delays caused by bad weather.

Do I need to be home while you are installing the roof?
Not at all. We simply need access to outside power and water.


What happens if it rains while you are installing my roof?
We monitor the weather very closely and only remove what we can replace in the same day. We also carry tarps for unexpected emergencies. When we leave at night, your roof is completely watertight. We only remove what we can dry-in or replace that same day.
Does Lee Brothers Construction have a good reputation?
Yes we do. Almost all of our business is through referrals. We are well regarded in the construction and building community.

What can I do about mildew on my roof?
Most home improvement stores sell a mildew cleaner that can be applied to your roof with a sprayer. Mildew cleaners shouldn't damage your roof in any way.
How often should I clean my gutters?
Gutters should be cleaned at least once in the summer and twice in the fall.
What else can Lee Brothers do for me?
We are glad you asked. Lee Brothers also offers the following services:
Siding
Drywall
Additions
Renovations
Remodeling
Interior and Exterior Painting
Consulting
And more!